We are Roadtrek Rookies
Has the idea of owning a Class B Motorhome or van conversion ever crossed your mind? Have you wondered what does everything do? Does the idea of being totally self sufficient interest you? If you answered yes to any of these, you might find the information on this site interesting.
Recently, my husband and I, who are RV rookies, decided we wanted to go camping but without having to be plugged in. We didn't like the idea of tents and I need indoor plumbing. After comparing models and manufacturers we chose the Canadian made Roadtrek RS Adventurous. We set off on our first adventure with the blue Roadtrek bag filled with documents and manuals.
That first trip taught us many things
Tank deodorizer is important
The fridge is cold enough to make pop explode
There is a thermostat for the furnace
The sink is only so big
We've been out a few times this summer and decided that we needed to keep track of which campsites we liked and which were best left as a one time thing. We've taken a few pictures and look forward to getting out again next year. Feel free to Contact Us if you have any questions about our RS or our adventurers.
We feel the RS is a great vehicle. Check out this top ten list of reasons why a Roadtrek RS Adventurous is the vehicle for you.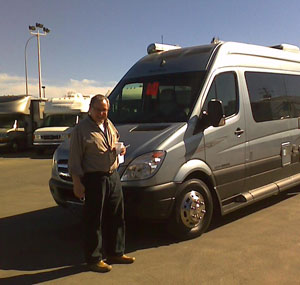 Find Other Roadtrek RV'ers Here